HOME > KNU-KOICA >
Dean's Welcome
Dean's Welcome
Welcome to the KNU-KOICA Master's Degree Scholarship Program of Agricultural Economics.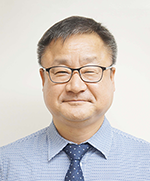 Kangwon National University, boasting of its 70 year history as one of ten core national universities, has been making every effort to respond to the rapidly-changing global era. As a regional stronghold university, Kangwon National University is endeavoring to concentrate brilliant ideas and resources on colleges by actively opening itself to the local community and the regional industries.
Kangwon National University has always been the center of Korean Agricultural development particularly. Including the Department of Agricultural and Resource Economics, Total 8 Departments under the College of Agricultural Studies has been making great endeavors on development and advancement in the agricultural sector of Korea.
We are very confident that young Asian, African, and CIS leaders will find significant progress and advancement in their academic life through KNU-KOICA Scholarship Program. As the training institution of Human Resource Development (HRD) for developing nations, we promise that Kangwon National University will provide the best level of Graduate Education to enhance young leaders' comprehensive competency in Agricultural Economics.
Lee, Jong-In
Dean of the KNU-KOICA Master's Degree Program on Global Agricultural Economics.